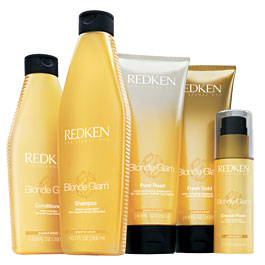 SCIENCE. FASHION. INSPIRATION.
Get great-looking hair the Redken way. Their advanced professional hair products will allow you live the New York lifestyle every day.
Redken balances its solid past of science with inspiration from the industry's best educators as well as a street sense of fashion, keeping Redken on the cutting edge.
BE INSPIRED.
Since the sixties, Redken has been a force in the salon industry. They have continuously invested in developing their skills, techniques, and products. Their exclusive formulas are extremely popular around the world.
Proprietary formulas allow them to give consumers products that cannot be found anywhere else. A Hollywood actress name Paula Kent was responsible for founding the company and Redken now has a great deal of time and money invested in its innovative products.
When you see a woman with beautiful hair, chances are she is using Redken. In hair shows and contests, Redken is widely known to stylists for its incredible effectiveness in creating truly unique and beautiful hairstyles.
The image put forward by Redken is one which every women dreams about when it comes to her hair. From shiny, silky long hair, to perfect spiraling curls to edgy short hair, there is a product from Redken for everyone.
Redken makes products for all kinds of different hair types so you can choose the one that is right for you and your hair. AllSoft is a range of hair products for those who have dry or brittle hair. These products have been specially designed in the Redken lab to add smoothness and shine to dry, dull hair and to add strength to brittle hair.
For strong, thick hair full of body, nothing is better than the Body Full line, designed especially to give body to thin or fine hair. Those with dry hair or even normal hair that needs a boost would be well-off using Clear Moisture, which is a moisturizing dream for dry hair.
Redken makes superior salon products for a wide range of hair types and styling needs. At Finishing Touch, we have the full range of high quality Redken products to choose from.
---
At Finishing Touch, we are proud to sell and use Keyano Skin Care Products.
The Keyano Skin Care line is designed to keep your skin looking youthful and radiant. From their cleansers to their clarifiers to their masks and peels, Keyano's products are modern miracles of skin care science. Keyano has a number of special collections that are designed for a number of uses and skin types, ranging from the Pomegranate Body Collection to the Chocolate Spa Collection. The pure and natural Keyano Mineral Makeup line features everything from lipsticks to vibrant eyeshadows to special brushes for optimum application.
For more information about Keyano's rainbow of revolutionary products, please visit their website at http://keyano.com/.
---
The OPI Nail Polish Product Line - Proudly featured at Finishing Touch!
OPI has been making waves in the beauty industry for years, as one of the first nail polish companies to exclusively sell to and work with beauty professionals. They keep up-to-date on all technological developments and bring the latest advances to their product offerings. To interactively discover the wide range of polish colors offered by OPI and to learn more about the company, visit their website at http://www.opi.com/.
---